Regular price
Sale price
$14.99
Unit price
per
Sale
Sold out
Puff, puff, don't pass! Premium flower infused with our ultra-potent Knockout blend, packed in a pocket sized preroll.
HHC, Delta-8 THC, CBG, CBD, THC-P, HHC-P, CBC, <0.3% Delta-9 THC, Natural Flavoring
Cannabinoid Concentrations Per Preroll:
Hexahydrocannabinol (HHC) - 50mg
Delta-8-Tetrahydrocannabinol (D8) - 30mg
Cannabigerol (CBG) - 30mg
Cannabidiol (CBD) - 10mg
Tetrahydrocannabiphorol (THC-P) - 1mg
Hexahydrocannabiphorol (HHC-P) - 1mg
Cannabichromene (CBC) - 1mg
Total Cannabinoid Concentration Per Preroll - 123mg
Total Cannabinoid Concentration Per Container - 850mg
Inhale for 3 seconds, 1-2 times, and wait 20 minutes before taking more to establish tolerance.
View full details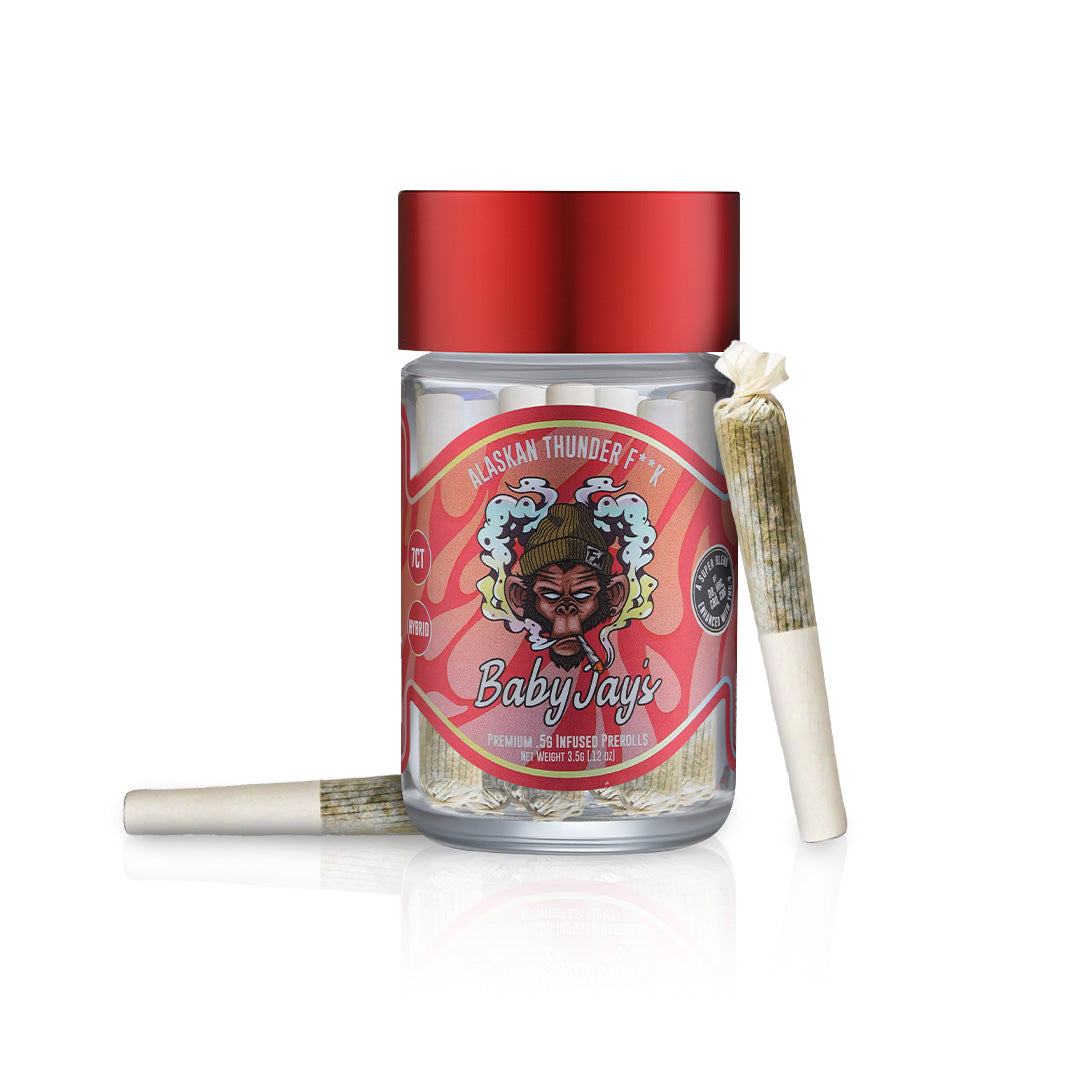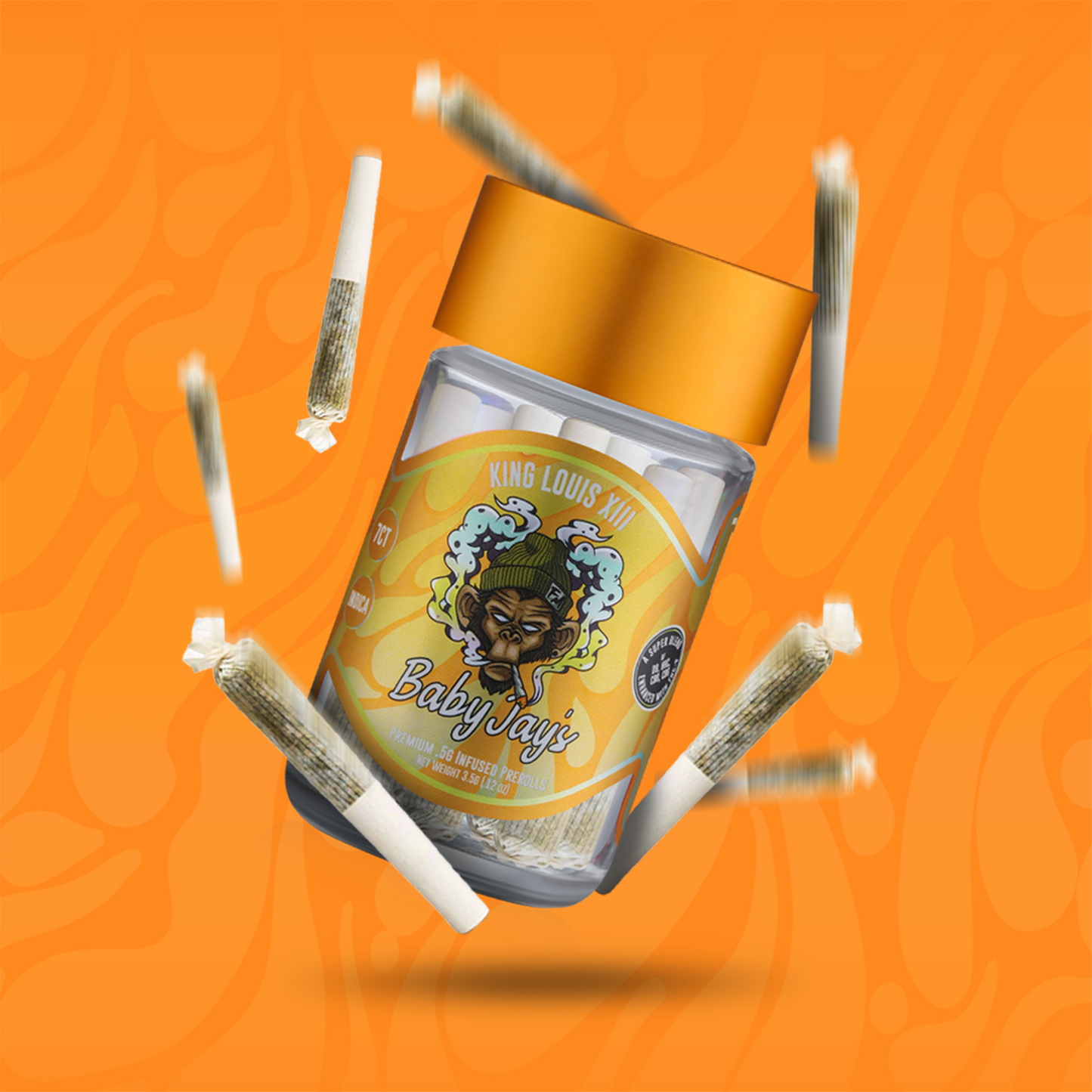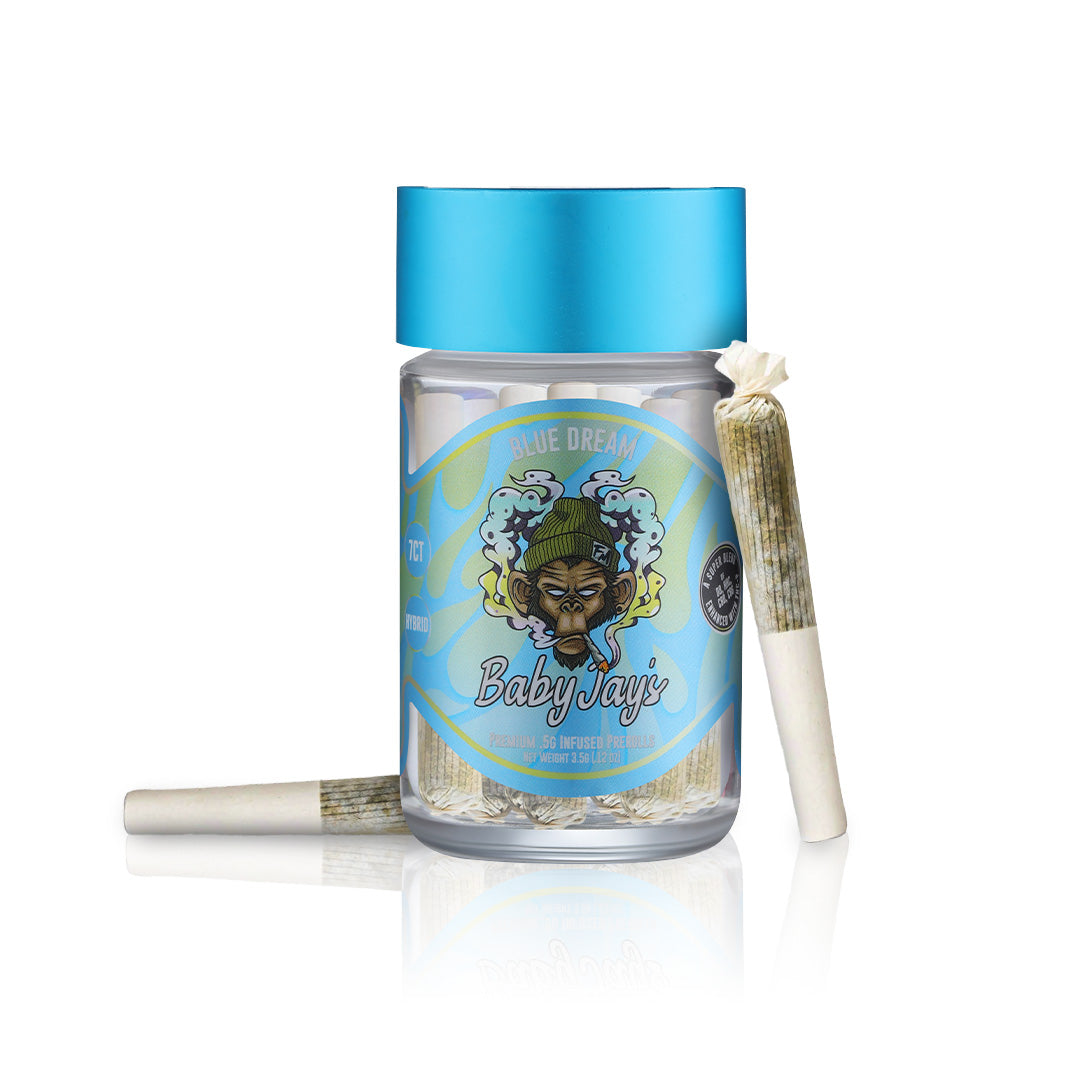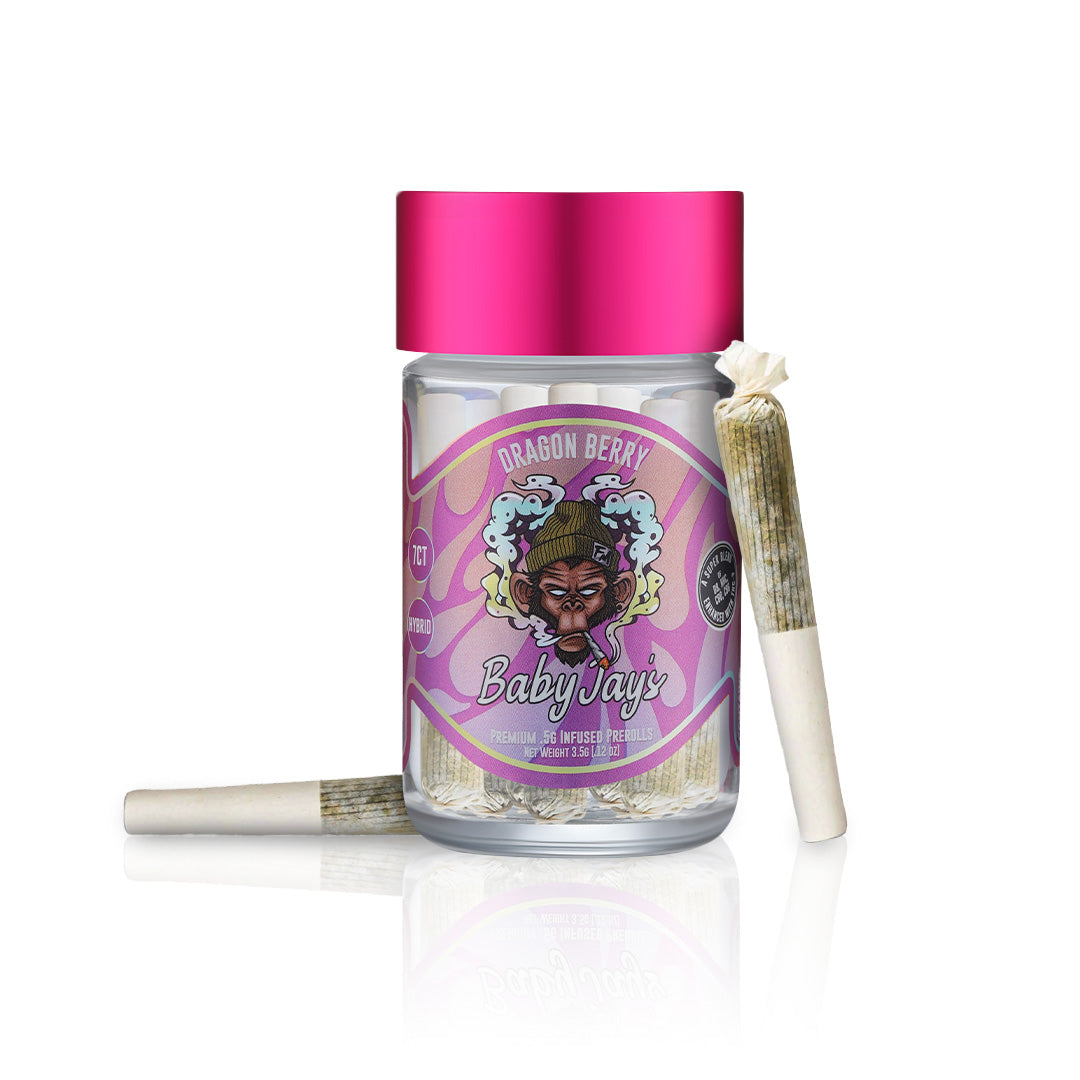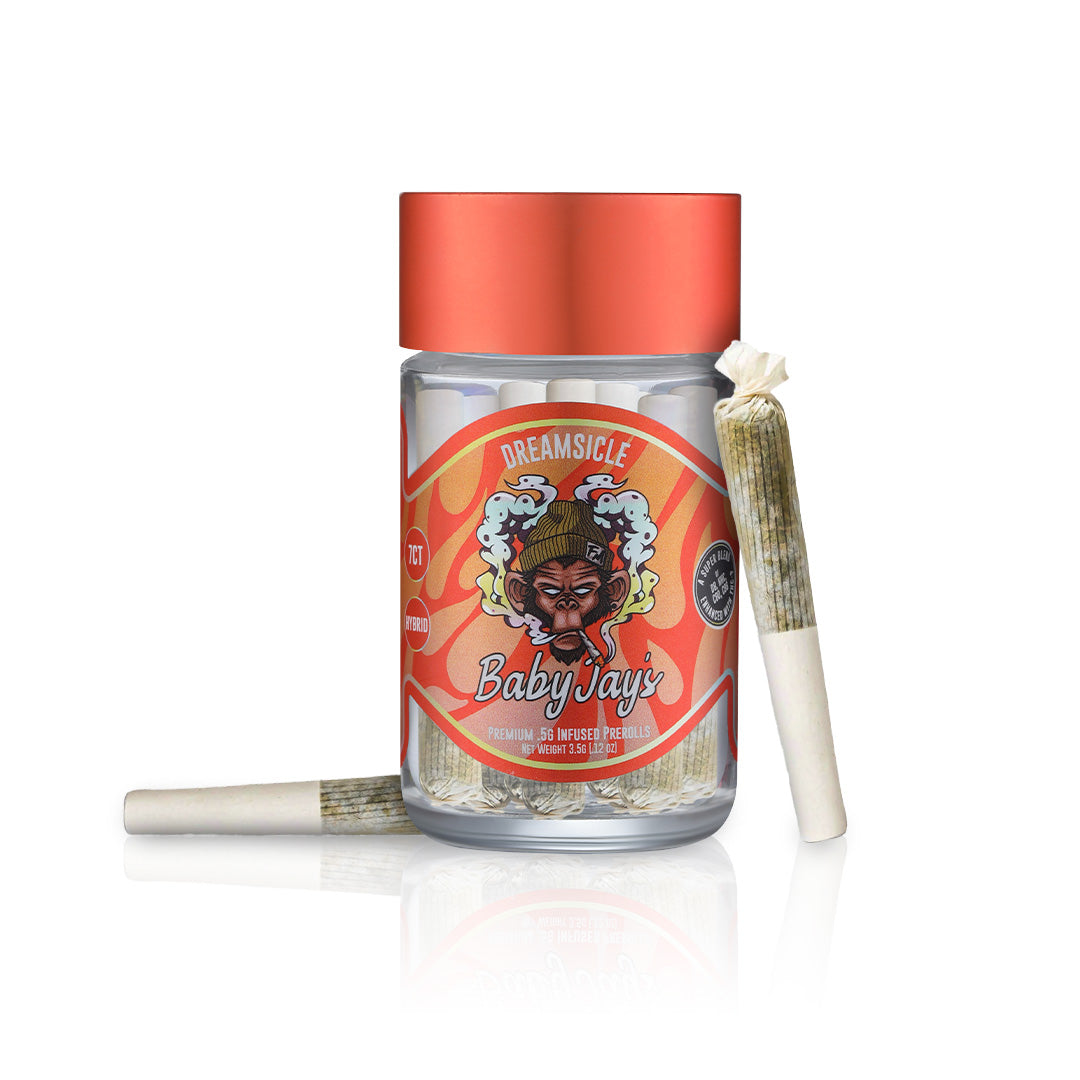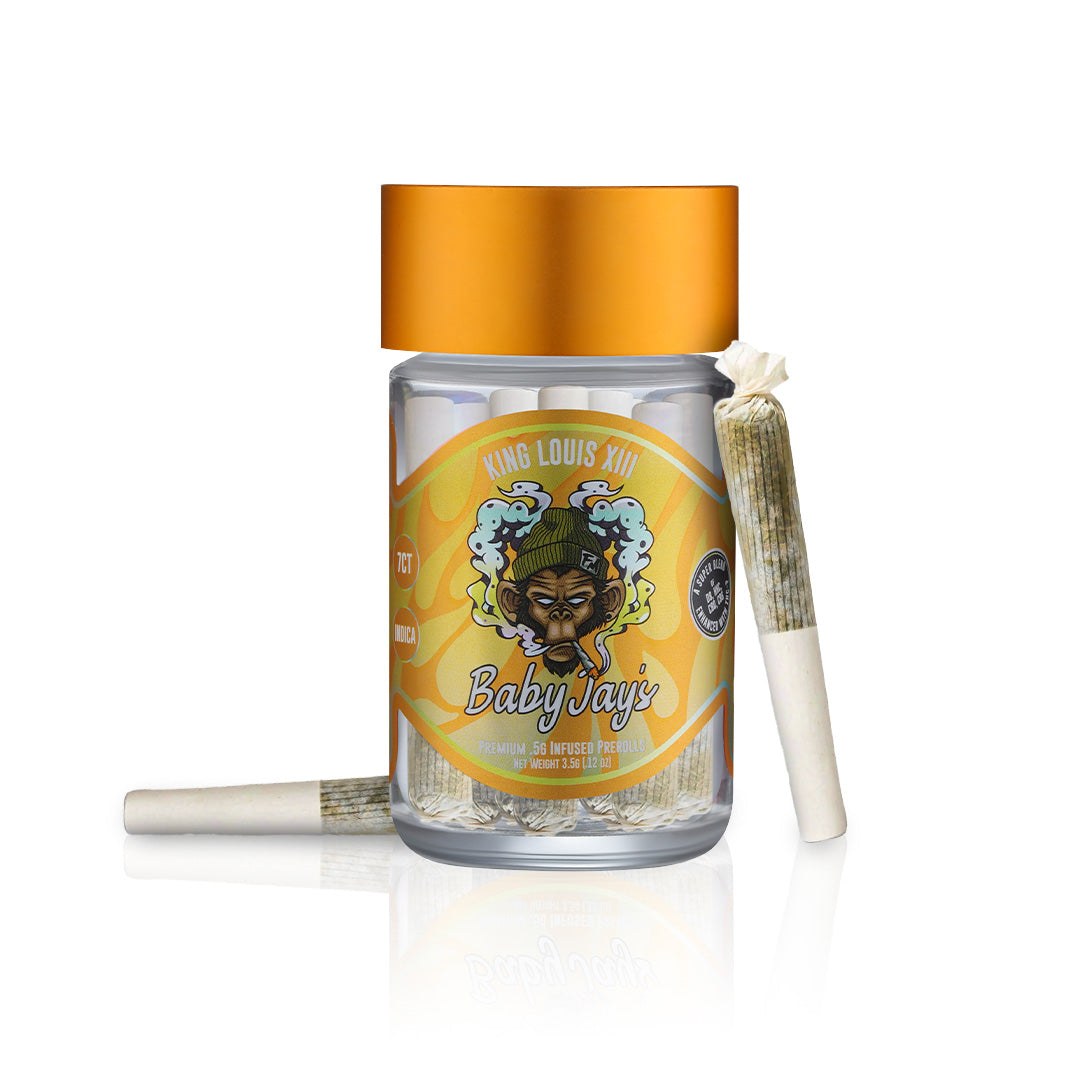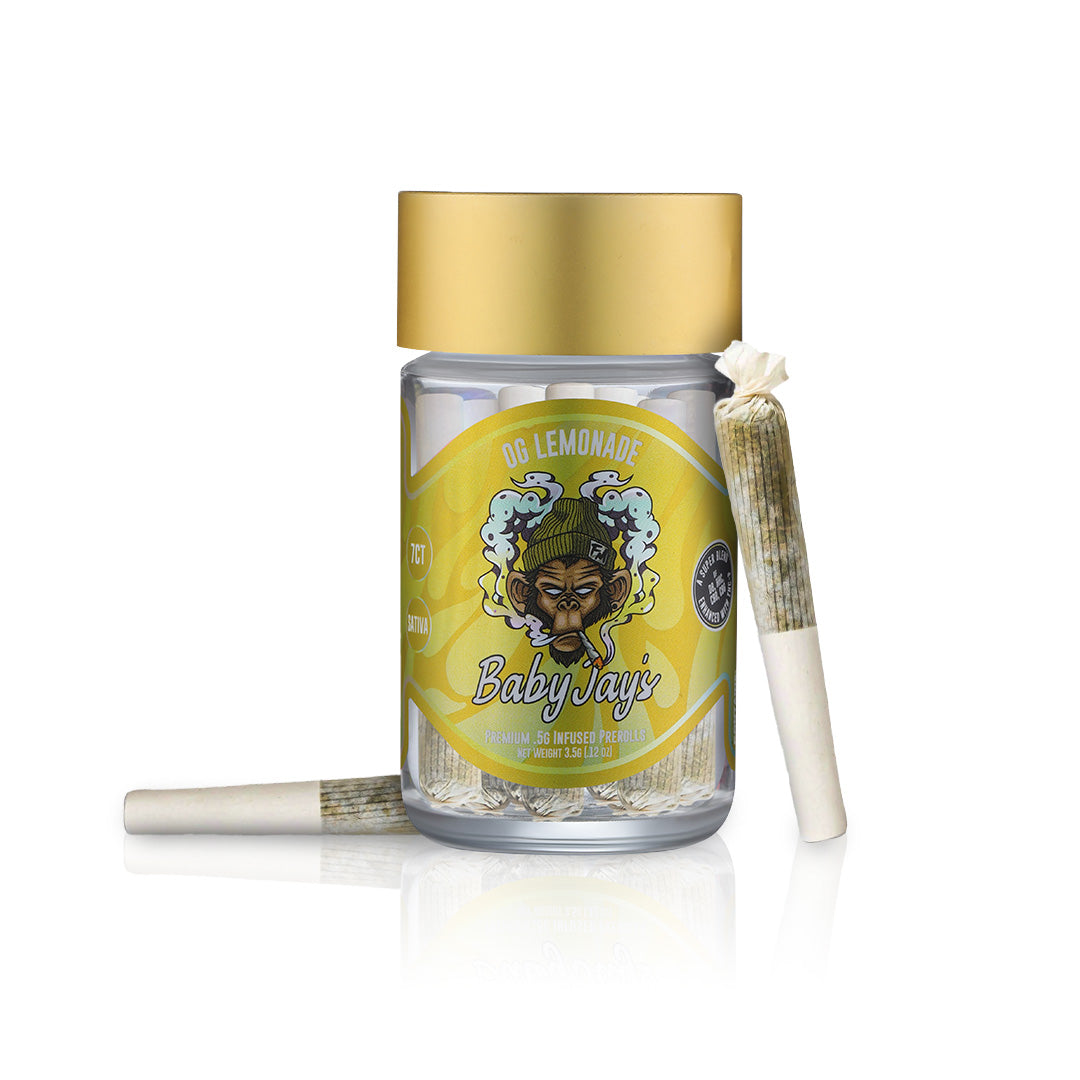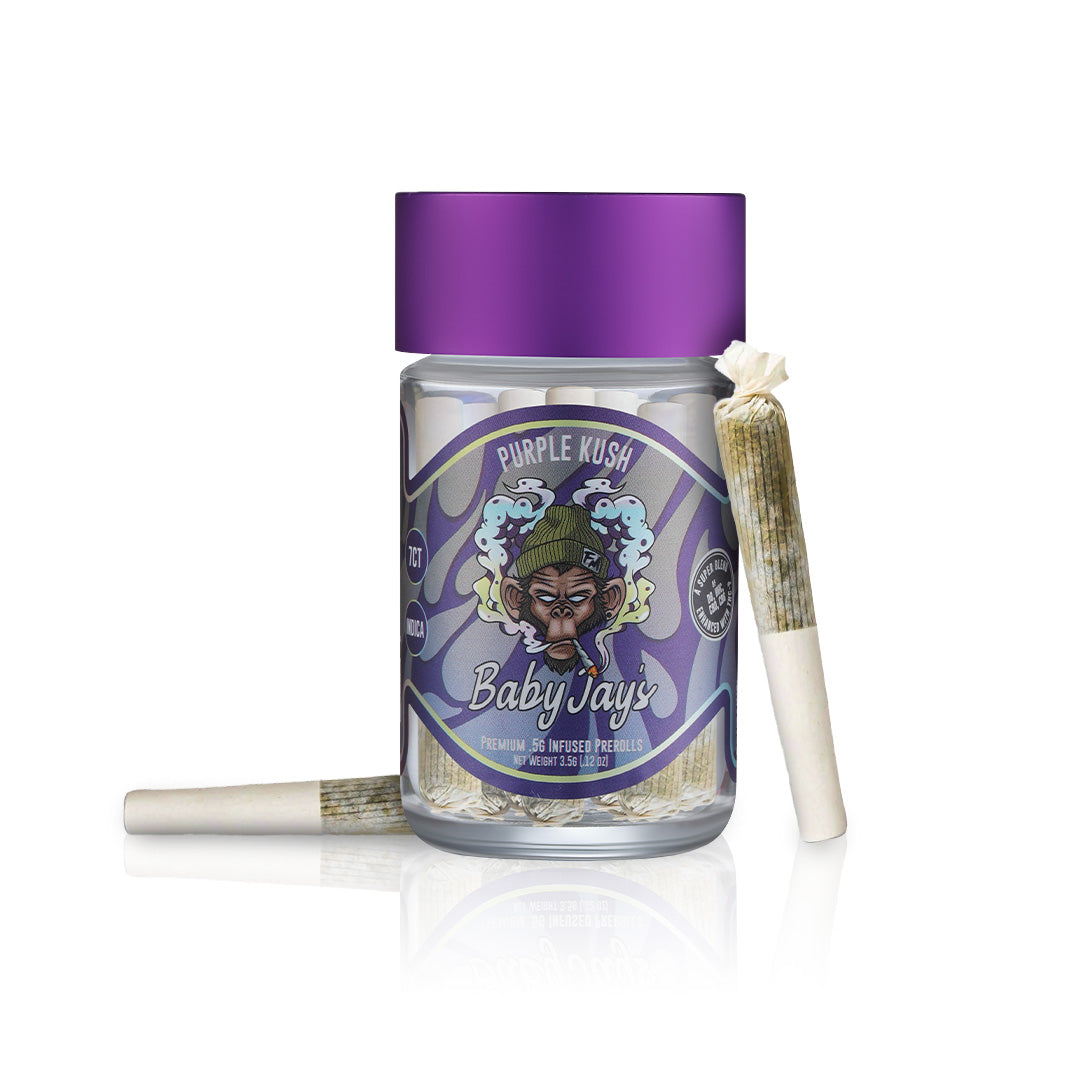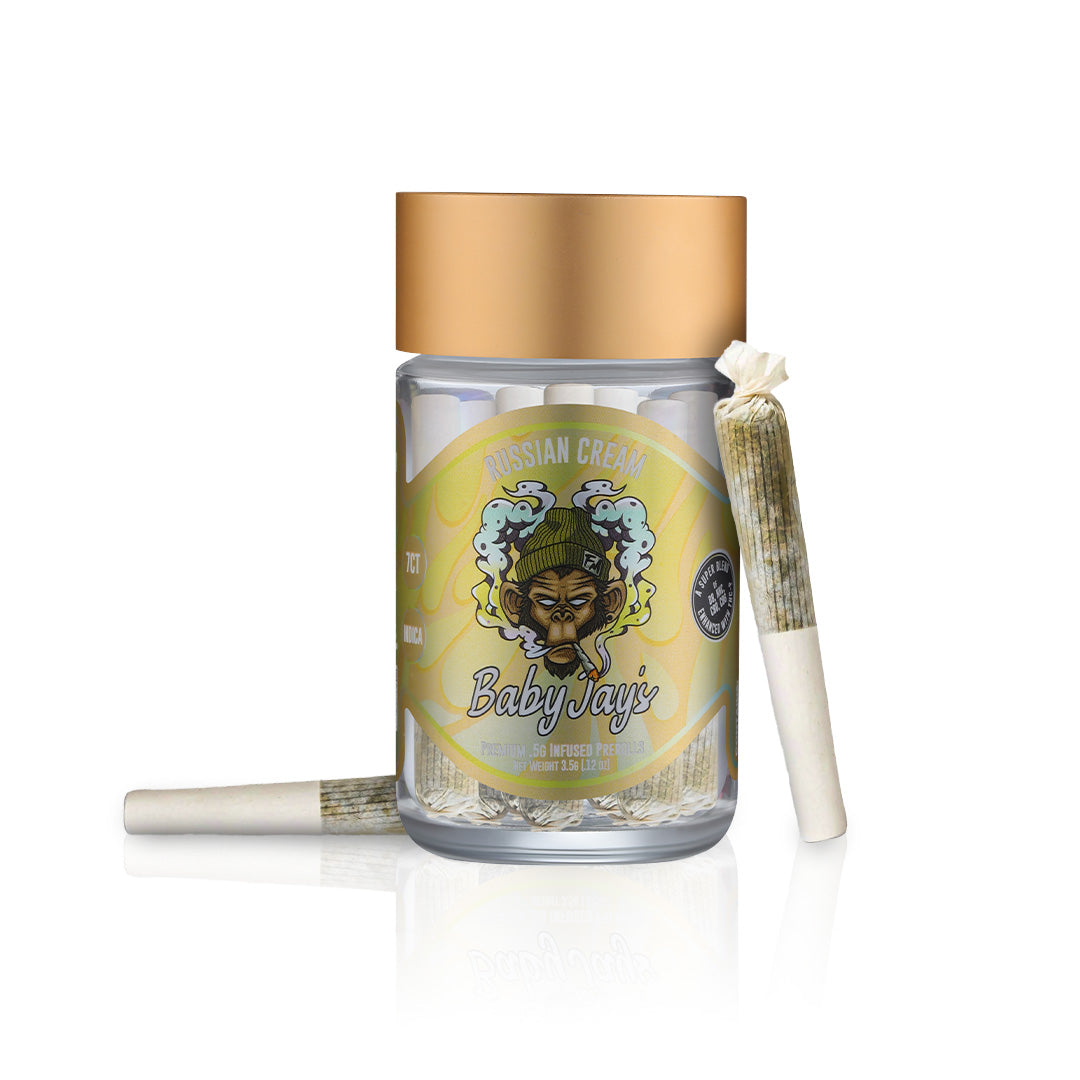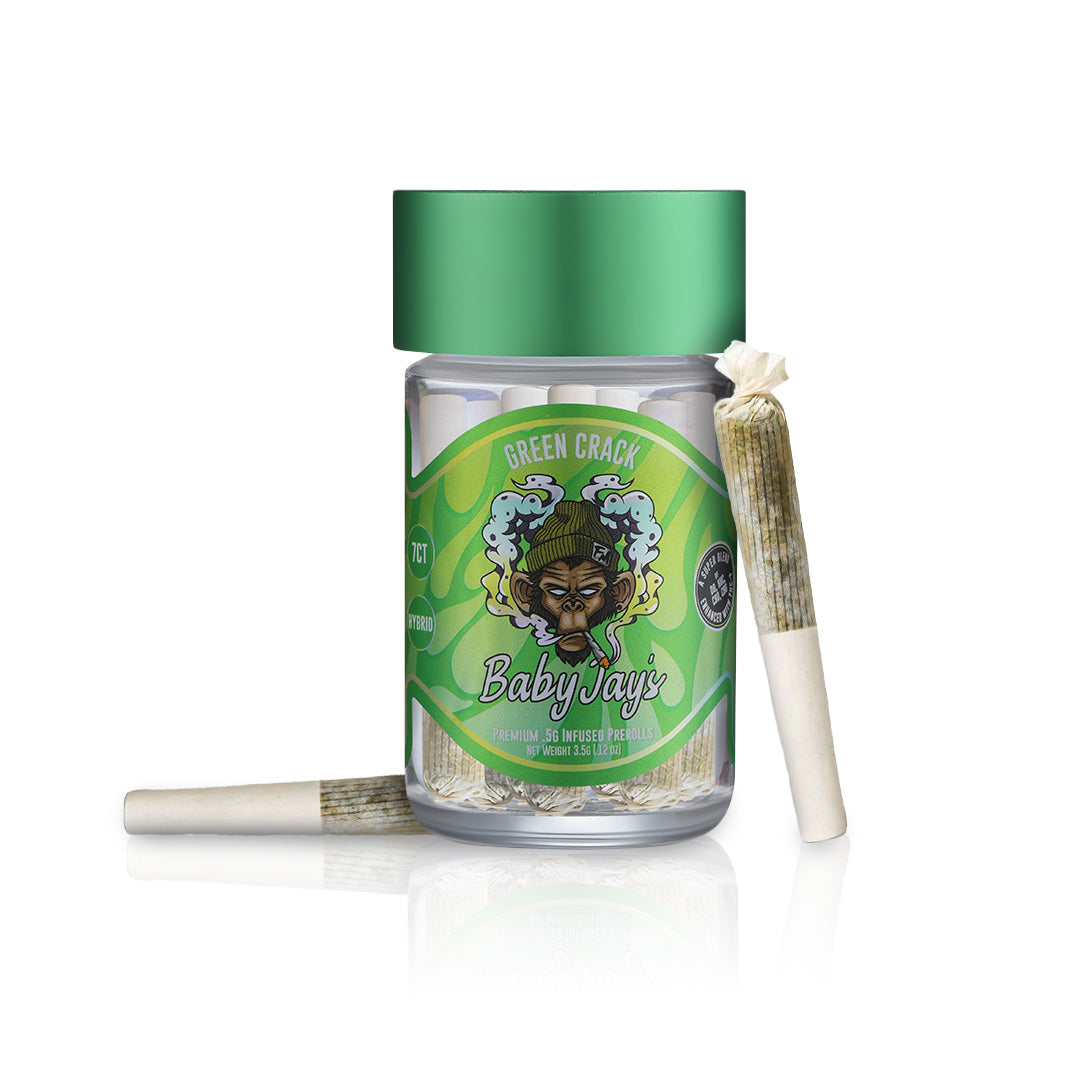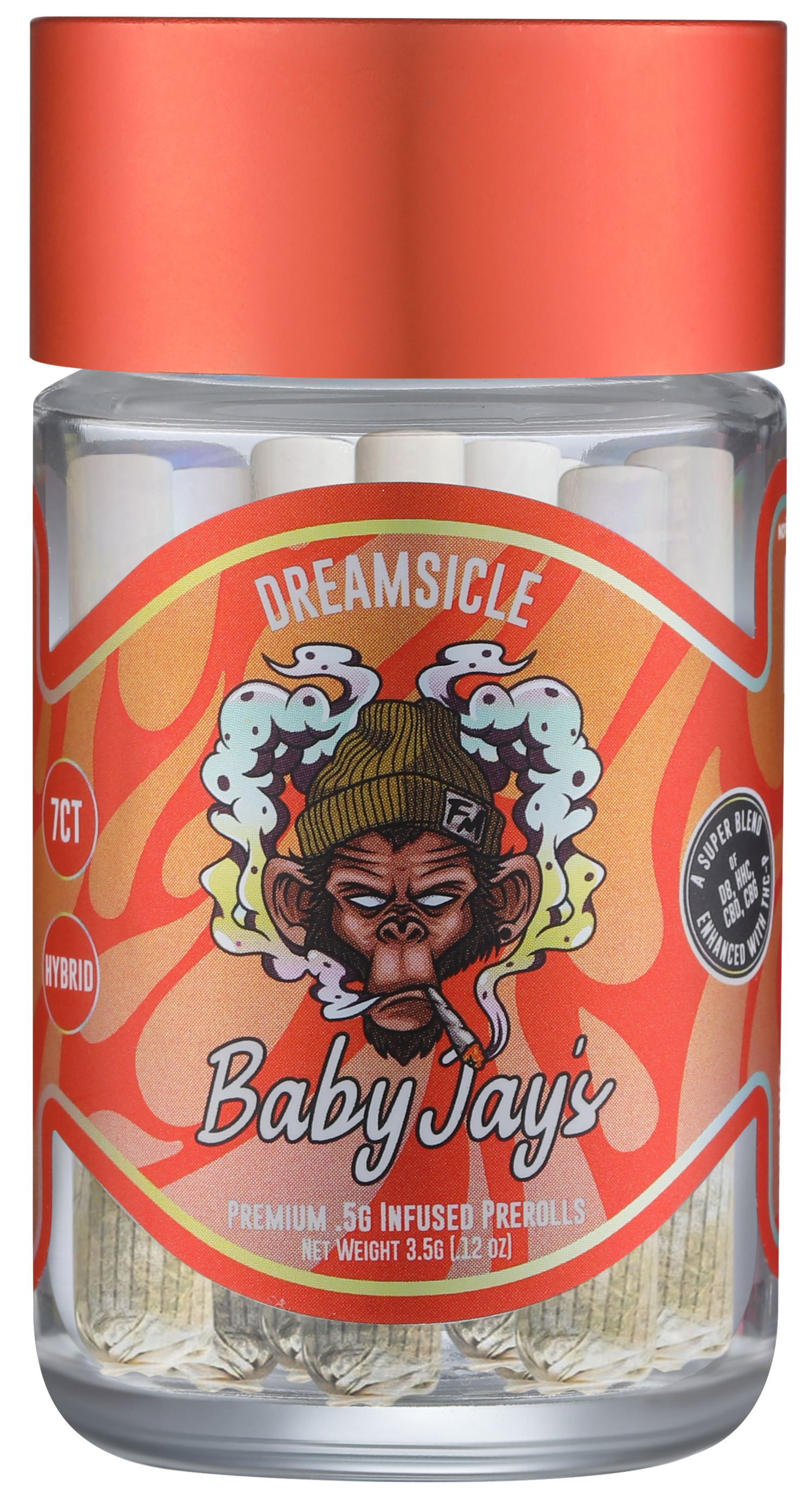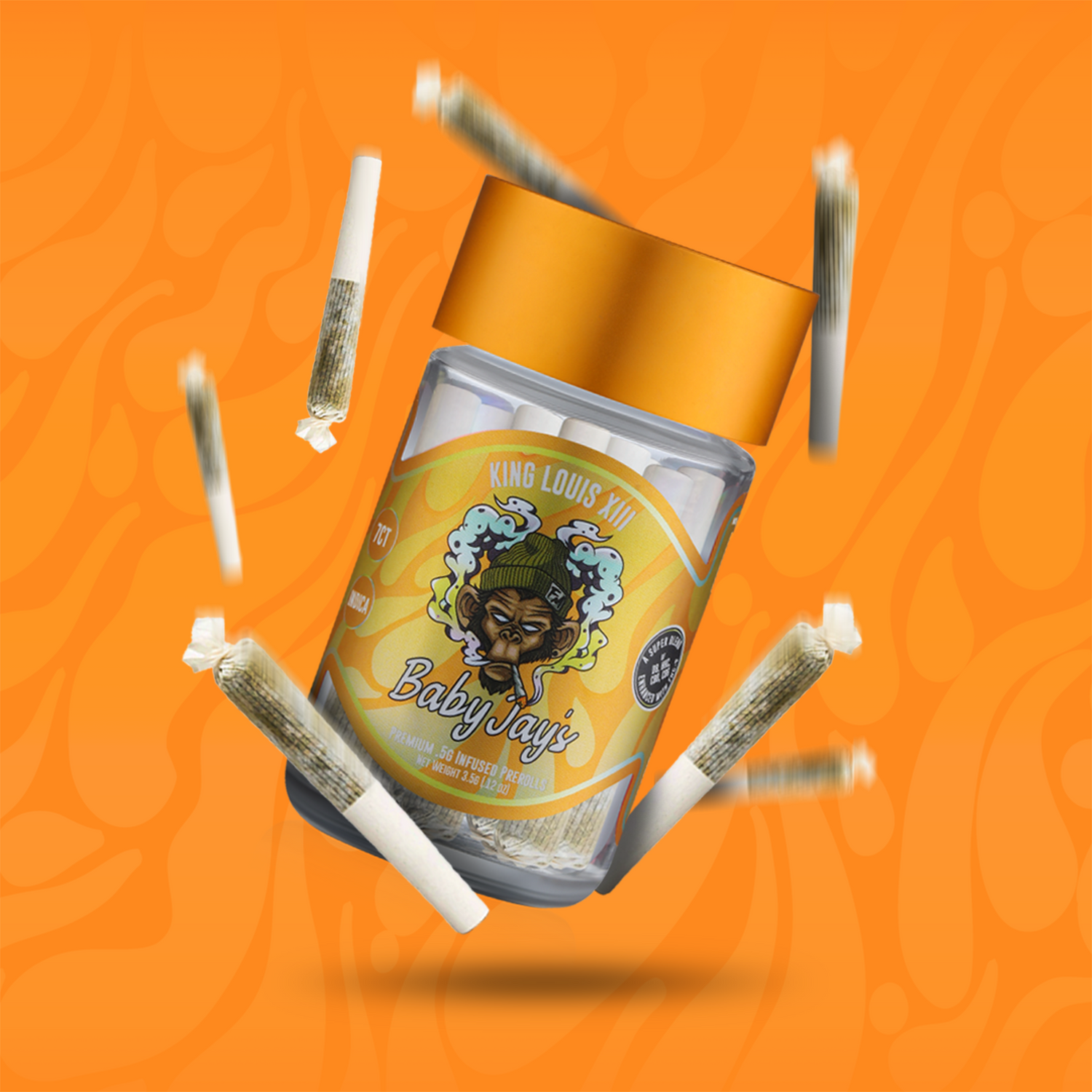 Trust the Monkey
We own and or operate every level of our company - from raw materials, to production, and distribution. This means we have the highest level of control over see every step of our process.
Lab Tested
We pride ourselves on having up-to-date third-party lab results for all of our products. You can find in-depth lab results that screen for solvents, pesticides, mycotoxins, heavy metals, and more under our Lab Tests page.
Heavy Metals
Microbials
Mycotoxins
Pesticides
Residual Solvents
Foreign Materials
Total 5 star reviews: 7
Total 4 star reviews: 0
Total 3 star reviews: 2
Total 2 star reviews: 0
Total 1 star reviews: 0
78%
would recommend this product
Great products

Great products good pricing.

These are great.

Awesome for a quick pick me up. They hit hard, don't sleep on them.

They're p good

Easy to bring along to quiet smoking grounds, easy to share with friends, good for their price n I get a neat lil jar out of it too

Potential

If they were just a smidge longer they'd be perfect. Flavor is there it's just shy of a buzz though. May be okay for newer users though
Reviews Loaded
Reviews Added
More About Knockout Live Resin .5g Baby Jay's | 7 Count
How do I properly smoke my preroll?

Take slow and steady puffs while inhaling the smoke. Don't inhale too forcefully to avoid the risk of coughing. Enjoy the experience at your own pace, and remember, always pass to the left!
How do I prevent my preroll from canoeing?

It's a good practice to "toast" the tip of the preroll before actually lighting it. Toasting involves briefly exposing the tip to the flame without inhaling to create a small cherry or ember. After your preroll is toasted, bring the flame from your lighter or matches to the cherry or ember and gently inhale while lighting. Rotate the preroll slowly while applying the flame. This helps ensure an even burn, and will prevent your preroll from canoeing.
How do I keep my preroll burning evenly?

As you smoke, the cherry (burning ember) will move closer to the filter or crutch. To keep the cherry burning evenly, you can gently blow on it or use your fingers to nudge the cherry back towards the tip as needed.
What are the best conditions to store my prerolls in?

The best conditions to store any preroll in are simple: cool, dark, and airtight. Keeping your preroll away from heat, direct sunlight, and open air are the best ways to preserve the integrity and potency of the flower.
What is the Knockout blend?
Where can this be delivered?

A small amount of US states have banned production and sale of hemp derived cannabinoids. We cannot guarantee this product is legal in your state or territory at the time of purchase.

Click here to see state by state product regulations.

Flying Monkey is not liable for products being recieved, possessed, or consumed in a jurisdiction where prohibited. Please familiarise yourself with local/state regulations before purchasing products.
Product Disclaimers

FDA Disclaimers: These products and statements have not been evaluated by the FDA and are not intended to diagnose, treat, or cure any disease. Do not consume this product if pregnant or nursing. Consult a doctor before consuming this product. Do not operate heavy machinery after consuming this product. Consuming this product may result in a failed drug test.

Legal Disclaimer: White Label Leaf does not manufacture, sell or distribute any products that are in violation of the United States Controlled Substance ACT (US.CSA).

Cannabinoid Disclaimer: This product contains hemp derived cannabinoids. The intoxicating effects of this product may be delayed up to two hours. Using this product while pregnant or nursing may be harmful. Consumption of this product impairs your ability to drive and operate heavy machinery. Do not consume more than the recommended amount.

Underage sale prohibited. Must be 21+ to purchase.

For adult use only. Keep out of reach of children.

This product is in compliance with section 10113 of the 2018 Farm Bill.
This product contains less than or no more than 0.3% Delta-9 THC.